Texas RV Definitions, Texas Motor Home Definitions, Texas Motorhome Definitions, Texas Travel Trailer Definitions, Texas Pop Up Camper Definitions, Texas Pick Up Camper Definitions,
What does Texas RV Disposal do? We dispose of old RV's by demolishing them which demolishing an RV is meticulously dissecting them, separating the wood, vinyl, glass, plastic fiberglass, metal, refrigeration units, and draining all fluids including any fuel.  Then disposing of each in the legally accepted manner.

What does RV mean? "Recreational Vehicle"
What is an RV? An RV is typically a "recreational vehicle" with living quarters and house amenities built into it so that can be used for camping and or living.  RV's can generally be pulled or built onto a personal vehicle and when it is all packed up it is street legal for an average consumer to haul without a CDL.  An RV can be a motorized vehicle or a trailer.

What does "Self Contained" mean? RV's are generally are self contained which means they have with a fresh water tank to for drinking / cooking water, a grey water tank for waste water from the sinks, shower and tubs along with a waste water black water tank for bathroom(s).  In addition to septic storage and fresh water self contained can also mean it has its own power source such as a generator or solar power.
What is an RV waste disposal facility, RV Dump Station or RV Dump Site?  these facilities are for the RV traveler to utilize to empty / clean out there black water and grey water storage tanks.  These RV dump stations or RV dump sites generally also have fresh water to replenish the fresh water tank.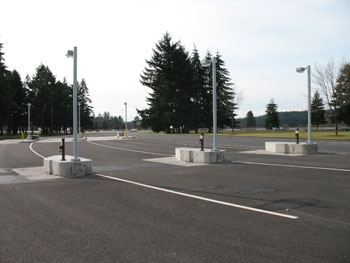 A Free RV dump station in the state of Washington
Most Dump Station are privately owned and are not Free
What is a Motor Home - Motorhome? A motor home is a motorized vehicle situated on a multitude of chassis including a van chassis, 1 ton single wheel chassis, a 1 ton dual wheel chassis,  a mini bus chassis, and up to a full size bus chassis. Toyota had a chassis that was there small pick up with a 1 ton dual wheel rear axle.  All motor homes are referred to as "motor homes" because they have a living area, refrigerator, stove, bathroom, bed and closet.  They generally are self contained. They generally have external electric cords so the motor home can be connected to electricity. The 2 amperages are 30 amp and 50 amp.  The vast majority of motor homes also have a built in back up generator with Onan being the most popular and desired generator for this use.

What is a Mini Motorhome? Toyota had a chassis that was there small pick up with a 1 ton dual wheel rear axle that was called a Mini Motor Home.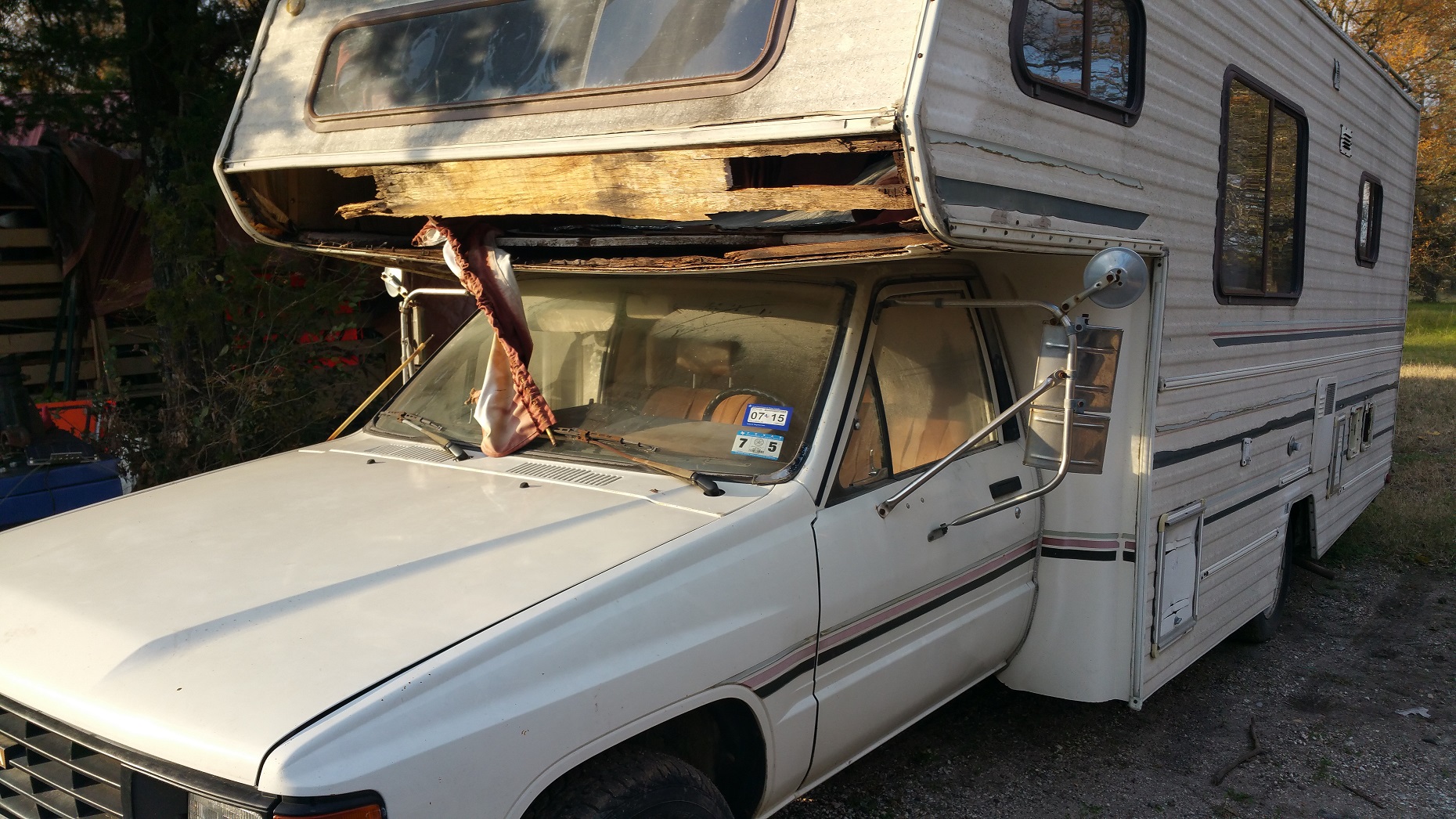 A 1985 Toyota Mini Motorhome that
Texas RV Disposal disposed of under a Court Order...
After fines, courts costs and other legal fees
It cost the owner well over $4500.00

What year did Motor Home - Motorhome originate? Motor home was officially added to dictionaries in 1965. Prior to that a motorhome or motor home was called a motor caravan. You can still search for Motor Caravans for sale and motor homes will be the search result.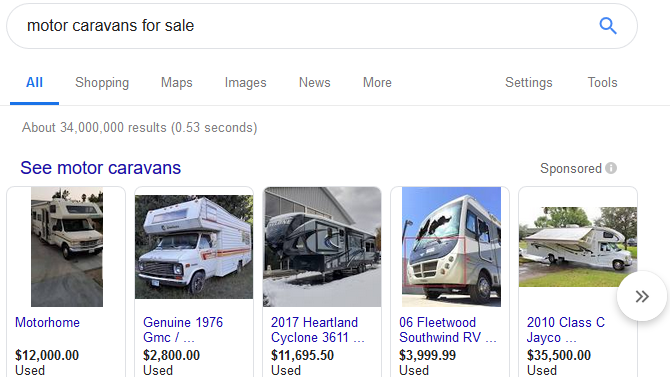 Someone asked us how we could prove that this screen shot wasn't taken in 1965?
WHAT??!!
What is the proper spelling ... Motorhome or Motor Home?  Motorhome is the most common spelling on the internet. However; dictionaries spell it "motor home" 2 separate words. Texas RV Disposal tries to utilize both spellings to reach everyone looking for our service.
Motor Home or Motorhome ??!!
They both work...

What is a Class A Motor Home - Motorhome? Are the largest and most expensive motor homes and RVS. Typically are on bus, truck and or custom chassis. They range in size 8 feet wide., many are 8.5 feet wide which is 102 inches), and from 32 to 45 feet in length. They are generally box rectangle box shaped. They can weigh from 17,000 lbs up to 45,000 lbs.  They run on gas, diesel and some run on propane.  Diesel is generally the best fuel mileage and they are called diesel pushers.  The gas rigs get anywhere from 5 to 10 miles to the gallon an an average.  Mountains and hills can lower that down to 2 MPG. Sleeps 6 - 10 people.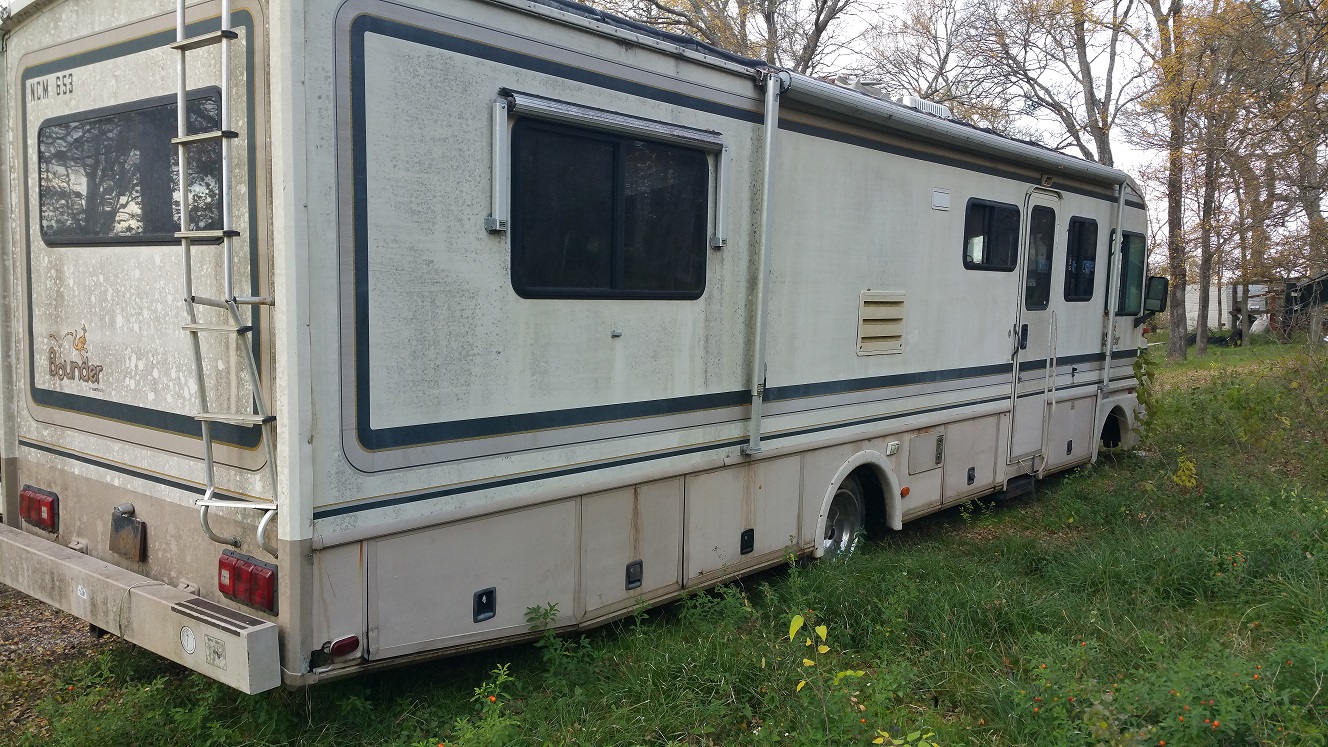 A Class Motor Home that Texas RV Disposal disposed of for a Client

What is a Class B Motor Home - Motorhome? Class B's are the smallest motor homes and are generally no more than a single wheel - single rear axle van with very few amenities and very little similarity to a home. Sleeps 2 - 4 people.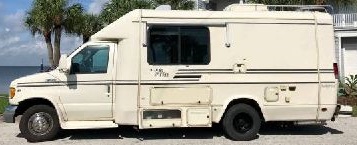 Class B Motor Home Disposed of by Texas RV Disposal
Why is a Class C Motor Home - Motorhome bigger than a Class B? You would think that a Class B motor home would be the next size down??  But they are not.  When motor home first came out they were either large Class A's or small class B's. Class C's are in between a Class A and Class B in size and typically in price. They came after the Class B's.

What is a Class C Motor Home - Motorhome? A Class C Motorhome is actually the second largest in size.  The Class C category came along after Class B. Class C Motor Homes are generally built on 350 or 3500 van or light truck chassis. They range in Length from 20 to 28 ft typically. There a a few more customized frames that stretch to 2 feet. Sleeps 4 - 6 people.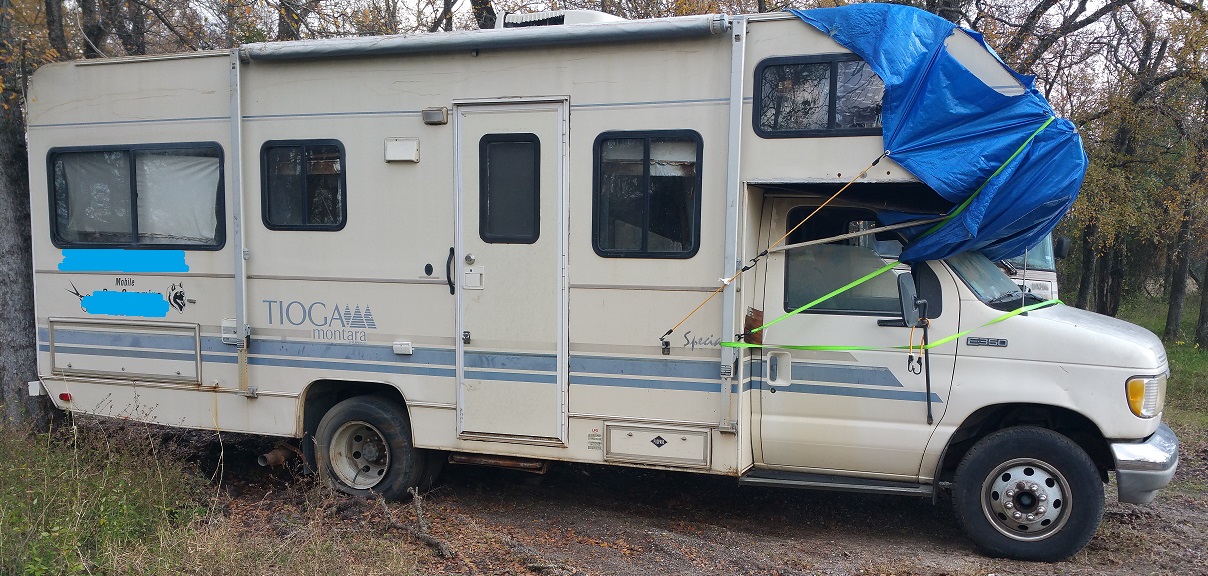 A Class C Motorhome that Texas RV Disposal disposed of for a Client

What is a 5th Wheel Travel Trailer? A 5th wheel is not to be confused with a gooseneck.  A gooseneck is actually like it sounds ... the neck of the trailer protrudes forward and down in the pick up setting on and latching onto a ball hitch. A 5th wheel is the large flat hinged plate hitch on the back of an 18 wheeler that a trailer, with a pin, slides into and latches. So does a 5th Wheel travel trailer have this same system. You must have a pick up or truck with an bed that can hold the 5th wheel hitch to pull this type of trailer.  As an RV, the 5th wheel pin protrudes into the back of the pick up over the tail gate thus creating a a bi level floor plan inside the unit that you step up into it.  5th wheels are generally larger that bumper pull specifically because of the the 5th wheel.  The weight distribution allows the pick up to pull more weight allowing for more amenities and for the unit itself to be longer. Which they can be 40 feet in length. Sleeps 6 - 10 people.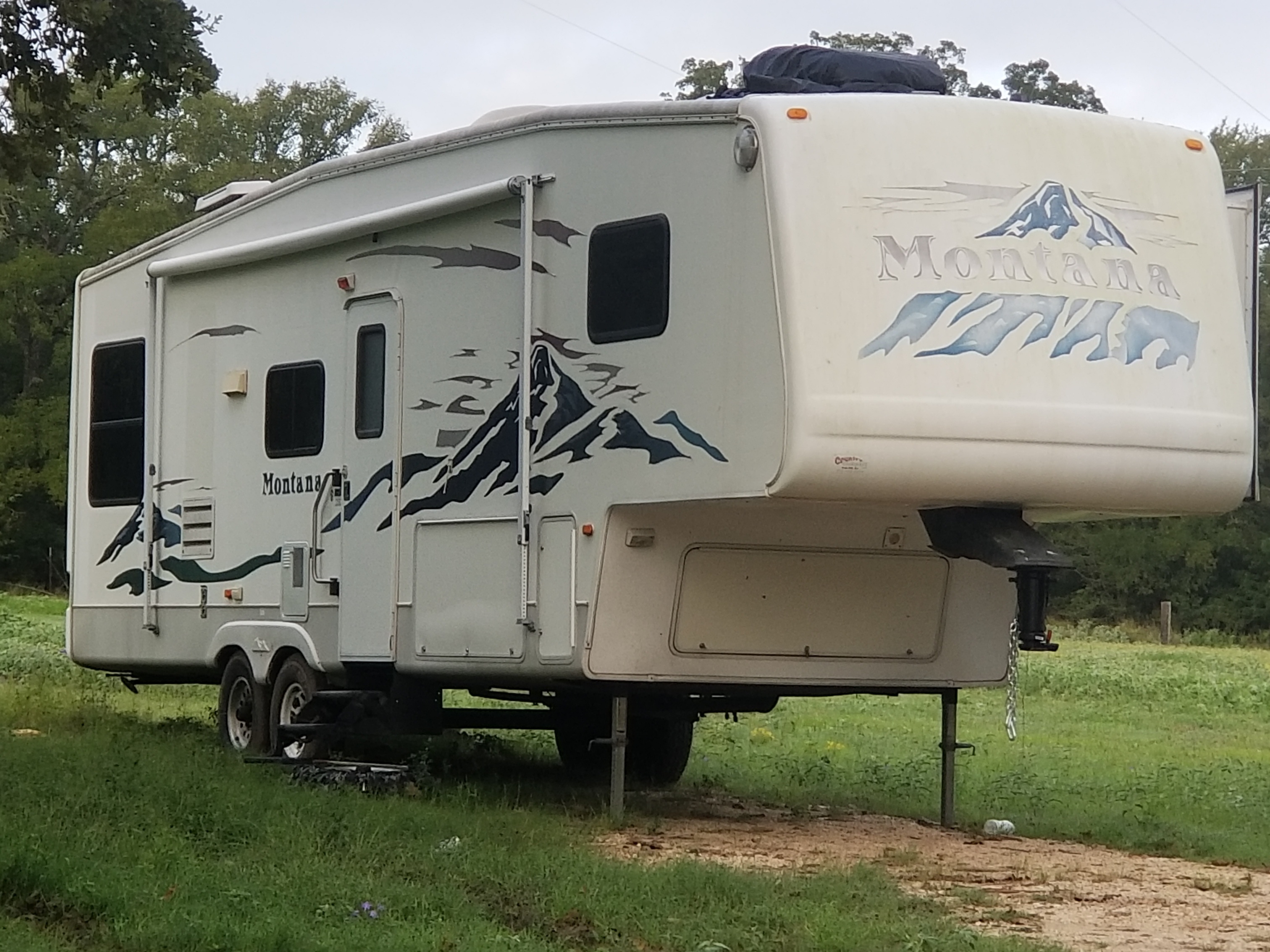 A 5th Wheel Travel Trailer with a 5th Wheel Gooseneck Adapter.
Texas RV Disposal disposed of this 5th wheel for a Louisiana Client.
It looks great but it needed $35,000 worth of repairs.
What is a 5th Wheel Gooseneck Adapter & Why use it? Gooseneck hitches mounted in the bed of your truck take up much less room and they are more common and can be used to pull any gooseneck trailer.  Many gooseneck hitches are hidden below deck in the bed of a pick up or flat bed.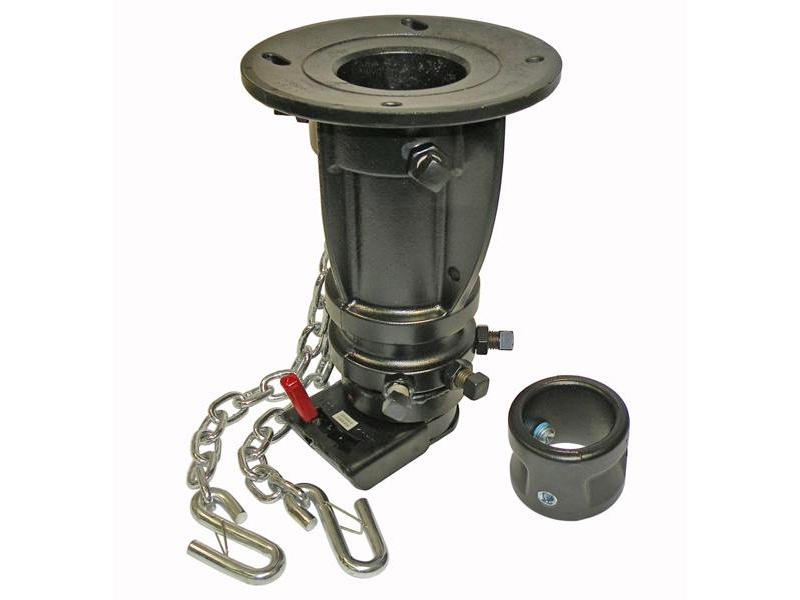 This adapter works great, current pricing is less than $500.00 and weighs about 50lbs.
You can order your  Fifth Wheel to Gooseneck Coupler Adapter from Texas RV Disposal
What is a Bumper Pull travel Trailer? Bumper Pull Travel Trailers are generally what people are talking about when they say "travel trailer". A bumper pulled trailer can be pulled with a 150 / 1500 pick up and larger. Some feather lite travel trailers can be pulled by a large car. A bumper travel trailer is generally built lighter so it can be pulled with light duty trucks.  So it is not built as well as a 5th wheel or a Motorhome. It has a standard trailer hitch that fits onto a ball attached on the bumper or on a towing package. The advantage of a bumper travel trailer is that the bed of the pick up is still available for hauling other items. Travel Trailers can be 14 feet in length all the way up to 36 feet in length with 30 feet being the most common.  Sleeps 4 to 8 people.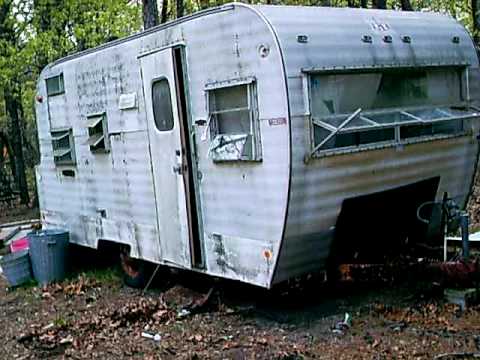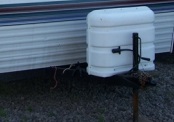 Close up of a Travel Trailer Hitch
What is a Destination Trailer?  A Destination Trailer is almost exactly like a standard bumper pull travel trailer except it is taller, built a little heavier and is generally more durable with a few more amenities.
Are there any advantages to a 5th wheel over a bumper pull? Stability and control is number 1. But what gives you this stability and control is the weight distribution is better for the vehicle pulling the trailer than pulling a bumper pull trailer.  The fifth wheel, like a goose neck hitch, is located directly over the back axle which so the weight is on the back axle instead of the back of the vehicle on the bumper.

What is Pop Out or Slide Out? A pop out or slide out is a room addition that can be electrically moved out to make the room it is in larger.  A typical pop out or slide out is 3.5 feet to 5 feet in depth adding 3.5 to 5 feet x its length of the square footage.  They must be fully retracted when transporting and pop outs/ slide outs are notorious for being points of leaks. Pop Outs / Slide Outs are available in all Classes of motor homes, 5th wheels and bumper pull travel trailers.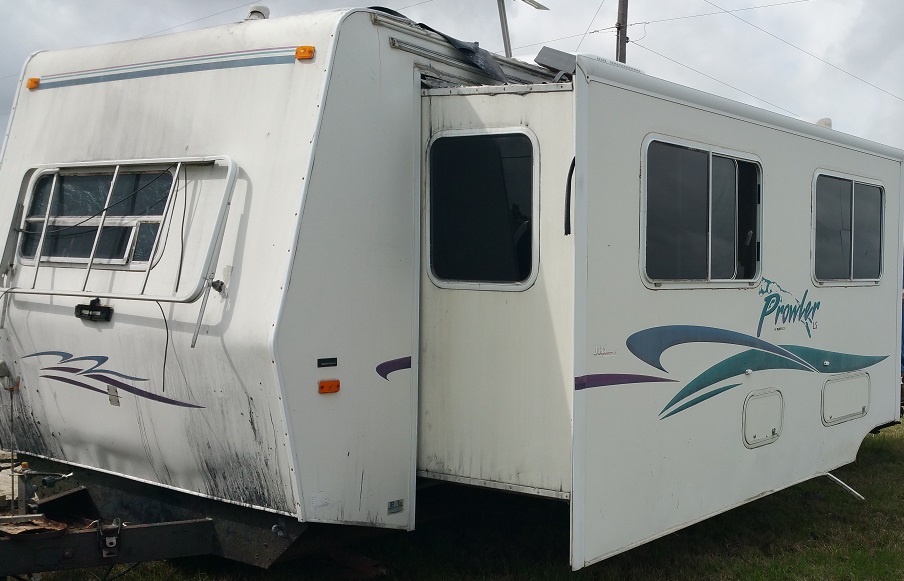 This is a travel Trailer Pop Out or Slide Out.
This unit was a Hurricane Harvey victim disposed of
by Texas RV Disposal.
What is a Pop Up Camper? A Pop Up camper is generally a single axle / single wheeled trailer that has a camper with a station bottom and sides.  The sides are generally 2 feet to 3 inches in height.  The "pop up" portion can be made of canvas with poles to support it when it is up / open or it can have collapsible fiberglass rigid walls and roof.  Either way it generally takes 5 to 15 minutes to have it up and usable. Pop Up campers are generally 14 to 16 feet in lenth. Sleeps 2- 4 people.

| | |
| --- | --- |
| | |
| A Pop Up Camper Closed & ready to Haul | A Pop Up Camper Setup & ready to use |
Both of these pop up campers were hauled away by Texas RV Disposal. 
The setup unit was hauled away because the Clients HOA told him he couldn't
keep it at his home and would have fined him heavily if he didn't comply.
What is a Pick Up Camper? A pick Up Camper is a typically hard shell unit that slide into the back of a pick up (you generally want a 1 ton dually but single wheels will work) that has the bed located in a upper part that protrudes over the cab of the truck.  It can have a dining table that makes into a second bed, sinks, fridge, stove and even a small bathroom. Sleeps 2- 4 people.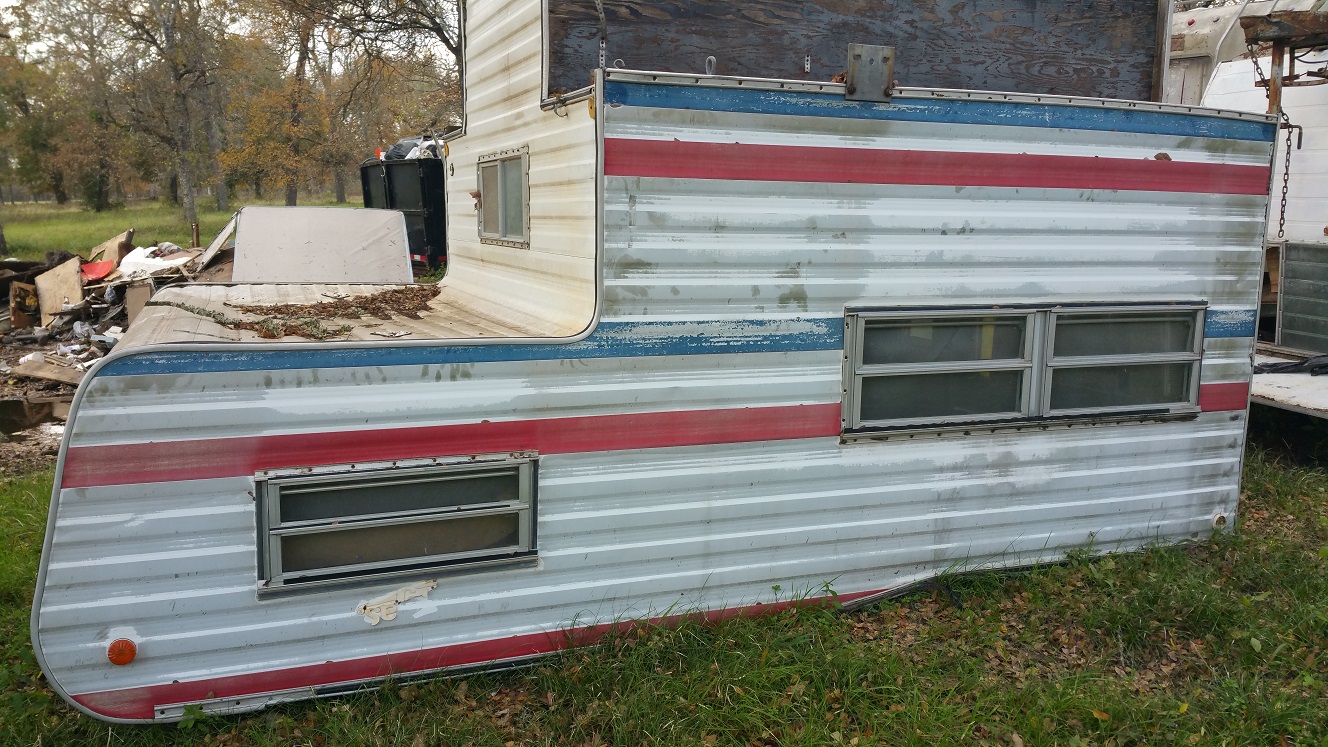 Texas RV Disposal hauled away this upside down Pick Up Camper for a Client.
Temporary Vehicle Registration in The State of Texas: A Temporary vehicle registration allows temporary movement of a vehicle under specific circumstances, including:
If the vehicle is not registered.

If the vehicle is registered in a state that does not have a reciprocity agreement with Texas.

If The vehicle is registered in a state that has a prorate agreement with Texas, but the vehicle does not have a prorate sticker or registration cab card for Texas.

To increase weight, if the vehicle is not registered for its maximum allowable weight.

Four types of temporary registration permits: 72-hour, 144-hour, one-trip and 30 day.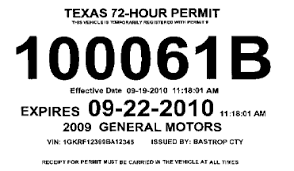 For all of your RV Disposal Needs
Call Texas RV Disposal First, Last, Always!
Click Here to Email Texas RV Disposal!
Click Here to Call Texas RV Disposal!
We Accept